Claire Thomson

Jonathan McKenzie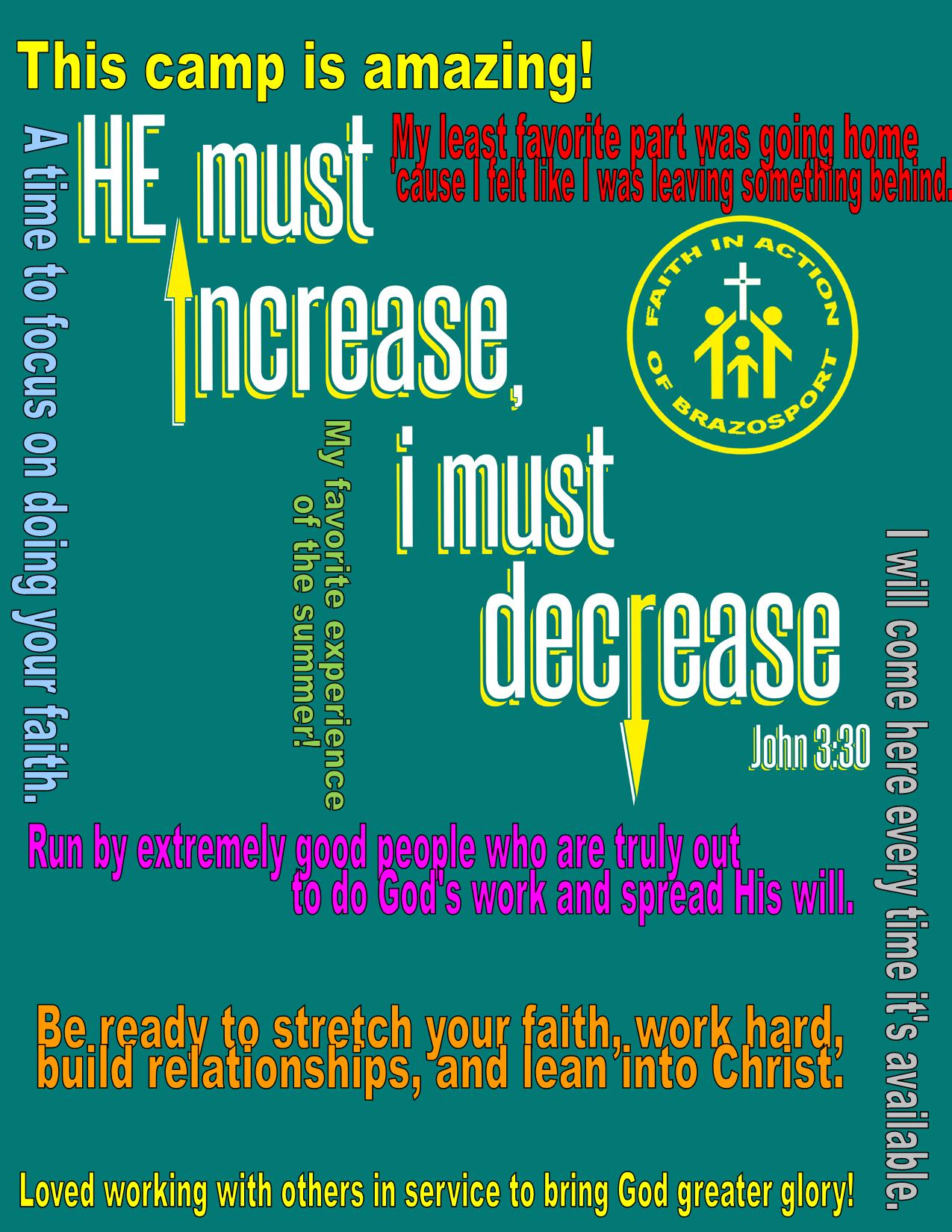 What would you say about Faith in Action if you knew we were going to publish it on our website?
it was an awesome trip and i recommend everybody to come.
it is fun
cool
This camp is amazing! I would come here every time it's available.
Great camp! Wonderful food, but the tools need improvement.
Run by extremely good people who are truly out to do God's work and spread his will.
It was one of my favorite experiences of my summer this year
I would say it's very rewarding and it's a great way to get closer to God
That it's a great camp to go to
its amazing and i hope everyonr could expernce it
For a middle school camp, it was great!
great expierience, loved working with others in service to put god to greater glory.
I would say it's great, if you like working and helping others.
I would say it was a wonderful place
That this ministry is great for everyone who participates.
like yo church dog
You must come because you will have a great time!
We can do so much more at this camp. We can and should have more people and jobs to provide a better impact on the community around us.
fun
highly recomend
It is a very fun time for kids to have and help the community
that it was an amazing experience and it grows you closer to God
FIA is a wonderful place for kids to come together and do the LORD's work.
That faith in action is a fun youth experience and every one should try it
fun.
it was a great way to draw closer to God and learn how to do basic task.
A time to focus on _doing_ your faith. Be ready to stretch your faith by working hard, building relationships, and leaning on Him. No one said acting on faith was easy….. 🙂 But at the end of the day, there are stories to tell, lots of fun, great memories — and you'll be looking forward to the next time!
This was an amazing experience and I felt so close to god every second I was at work and helping someone out. I can't wait for next year.
What was your favorite part of the weekend? Why?
Free time because we could relax after working
listen to the clients talk with us
Going to our sight
answering for dis off the hook survey dog
i loved seeing the faces of the people we were helping after we finished the project and spending time with them.
working
Gaga ball
finishing our project and seeing how happy our client was
I enjoyed the working and free time.
Everything, because it was absolutely amazing. From the food, to the teammates and clients I worked with, to the worship times
Me sleeping
Worship: Just being able to focus on Him. Small group/devotional: Sharing the faith with the group.
my favorite part of the trip was building the stairs.
I loved talking to my client. She was really friendly and always kept us busy.
helping the client because it is the right thing to do and that is what God would want us to do.
Worship times because I learned a lot about God.
getting with godu
building the porch for our client cause she was very thankful
someone falling in my group falling in a paint bucket.
getting closer to god
the work because it was challenging but fun at the same ti e
Worship with Austin
Talking with our client.
I very much enjoyed how engaged and honest the staff of the group was and is.
working it was great
everything but mostly getting closer to god
My favorite part of the weekend was meeting my client and helping her with her house.
Talking to the clients and hearing how grateful they were for us.
Was working. They worked us hard, and in the end it payed off.
What was your least favorite part of the weekend? Why?
The rain
Nothing
Nothing
The only part I didn't like was the heat but other than that I had a blast.
waking up early
Setting up in the mornings.
my least favorite part was waking up
When they woke us up
I liked being able to share my faith with our client.
Painting
i didn't have a least favorite part
when i drilled into my finger
I felt as though we were at times given too vague instructions and guides on how to begin tackling the work that was assigned to us. Could make it difficult to get going.
My least favorite part was getting a swollen wrist everytime I play gaga ball but it was worth it because gaga ball is tons of fun!
I didn't have one 🙂
rude awakenings – People are happier when they wake up gently.
Working 1pm-3pm. Maybe we could work later and have a mid-day break (option to take the kids out for lunch one day?).
none
the heat
waking up
sleeping dog
Going home, because i felt as if I'm leaving something behind
My least favorite part of the weekend was getting woken up by different loud things.
Showers. Wish we could go when wanted.
when we had to share in the circle cause i dont like talking out loud
When the tools didn't work, or when we were missing half of our tools.
waking up in the morning with the pots and pans and the air horn
Do you feel like you grew closer to God? How?
Yes, he increased
Yes I do very much if it was the worship or the clents I met or just talking about him made me feel close to Him.
I feel like I grew much closer to god thanks to the lunch devotion and my leader and clients thoughts about it.
ya cause i dont noromaly listen to christian music all day and i do here
Yes. By feeling His presence in the work and in teh relationship building.
yes because it was just very spiritual
yes
yes, i grew closer through the faces of the people whos lives we made a difference in.
Yes. By serving his name
i definitely feel closer to god because of how close the groups became in such a short amount of time
oh ya dog
Cause I helped this one girl and she was so blessed of what we did and I know it's because of god
sorta
I would say that I did by simply acting out of his love. I feel that whenever one acts out of love they will inevitably become closer to God. Faith in Action does a great job of putting people in the position and mindset to get this accomplished.
yes. learning how to serve in the community and learning more about myself in what is my next step with God
Yes
yes i do just by seeing how the people acted around each other and the client
yes! I felt closer to God in so many ways, I was able to let go and forgive my brother who passed away four months ago. I learned to give less to me and more to God.
I do feel like I grew closer to God, I feel like I connected more with him while I was helping others.
Yes, I can't describe how, but I just do
yes.
Yes, I thought about things I never thought about before.
yes it just made me feel good to help out like that
Yes.
Do you feel like you made a difference in the community? How?
yes because i painted a house
Yes because I helped two people and that felt really good in the heart and I am glad to not just do it for me but doing it for god.
I feel like I did make a difference in the community, we made it look better, safer, and cleaner.
yes through working hard
I believe we helped change peoples lives
Yes, because now several families homes and lives have been changed for the better, and every time you drive by, you know we've been there.
yes now its easy for a person to leave the house
No
yes
yes. when i saw the smile on the cliets faces i knew i changed for them.
i didnt make a diffrence our group did
I fell like my team and I made and big impact on the neiborhood and our client by fixing up the place and giving the neibors the inspiration to do the same if they have the money.
Yes. By sharing stories of faith with the Team as well as spending time with the clients.
toats dog
yes because that client well love her knew porch and enjoy it
Yes
absolutely! we showed the community how God's love is everywhere.
Yes, I feel like I made another person feel thankful through the Lord's grace and glory
Helping the people in need
i feel like we did make a difference because if we hadn't of done what we did, these people would not be able to get out of their houses or have a nice and clean house.
Yes. Helping out many clients
No matter how small an act is if it can make someone a little more happy I believe it is an impact. In this way I definitely feel we made an impact.
yes. by helping people who can't help themselves
yes because when we finished our client was so happy about what we did
---
Quotes from July 2013:
"This is a great experience that any youth group would benefit from." ~ Josh Orsak, Youth Minister
 "Faith in Action was really fun and knowing that you're not only helping the clients, but serving Christ made it more fun." ~ Zachary Haraway, Student
"This was a really life-changing experience because I realized how much we don't appreciate our things and there are people in much worse conditions, so I became more grateful this week." ~ Alyssa Albers, Student
"This weekend was so great. I loved seeing the client whenever she smiled at our work." ~ Tina F, Student
 "It was a very uplifting experience – one that I hope to experience again." ~ Ariel T, Student
"It feels good to help other people." ~ Josiah Woodburn, Student
"It's one of the best ways to serve God. People are so nice and caring. You will make friends easily with a smile on your face." ~ Jordan Mbeng, Student
"It was an amazing trip and I'm looking forward to next year." ~ Taylor Nguyen, Student
"It was awesome!" ~ Daniel Fourie, Student
"This weekend was an amazing meeting with God." ~ Davis Wadle, Student
---
July 2012 Quotes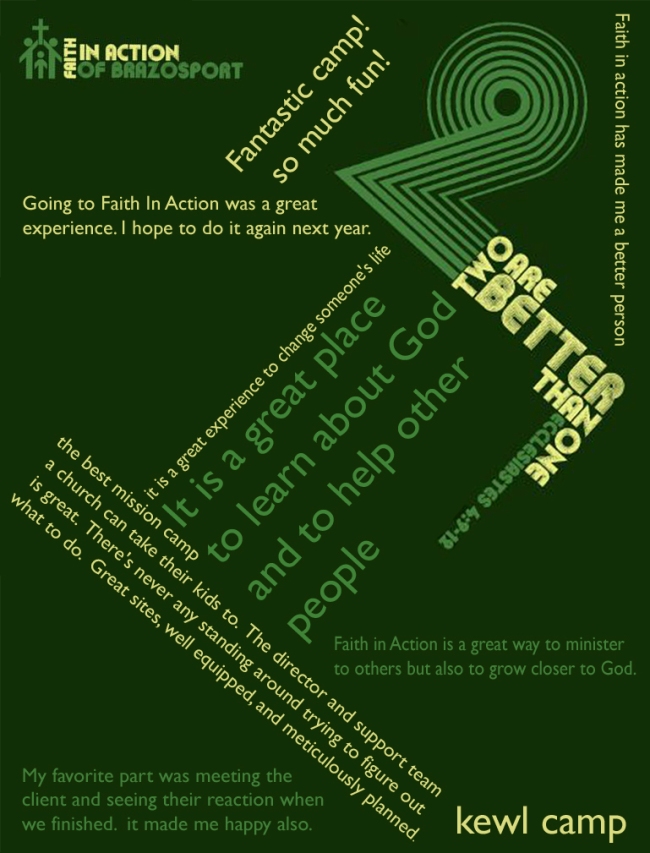 June 2011 Quotes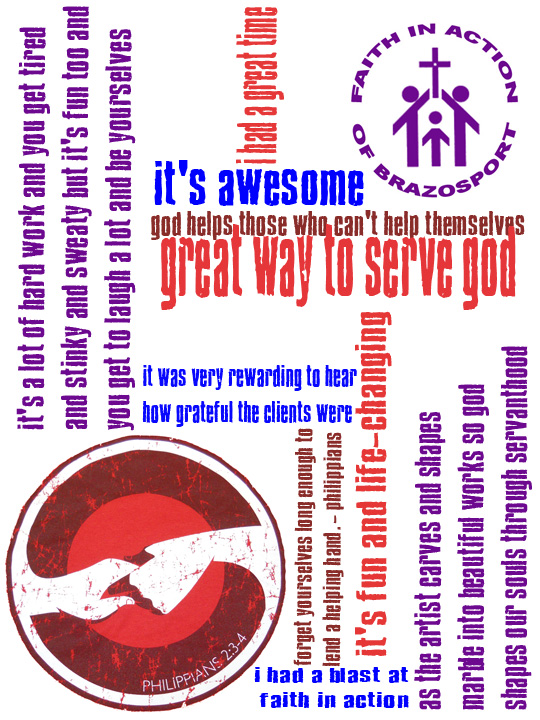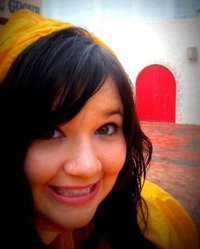 Andrea Dillon – High School
"Attending a Faith in Action camp is an amazing experience for everyone involved. The youth, adults, and clients all get something great out of it. The clients, of course, get the assistance that the volunteers provide for them and an opportunity to interact with awesome, Christ-like people. Through my four years of experience with Faith in Action as a youth, I've learned that helping the clients is mind-blowing! At the end of the day, when you see what you've created and you have had time to bond and build a relationship with your client – you know that getting up super early and all the hard work is completely worth it."